Home
Dale & Ernie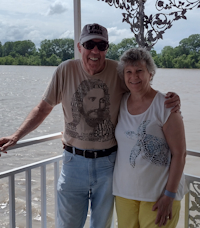 Send an E-Mail to Dale or Ernie or Both Of Us



Press "Ctrl-D" to bookmark this page.





Welcome To Our News Page




This page contains news about our family & friends. and concerning what we have been up to



Our Family And Friends
Our daughter Gale married her fiancé Mark September 14, 2019, adding two grandchildren and three great-grandchildren to our family.
Our granddaughter Kris married her fiancé Tim on May 31, 2018, adding two great-grandchildren to our family.
Our sixth great-grandchild, Bruce Michael, was born June 1, 2017. He was 18 inches long and weighed 9.5 lbs.
Ernie's Mom passed away on April 15, 2012. We are thankful for having had such a wonderful Mom. We are especially thankful for the last two years of having her with us. After being told by doctors that they could do no more for her and we should say your final goodbyes, she recovered to the point that she had almost two years of being relatively healthy, completely alert, and happy. We thank God that when the end came it was quick and almost completely suffering-free.
Return to Top.



What We Are Up To


To read more about and see pictures of some of the places we have visited click here.
September 2018 we did a bus tour to Pigeon Forge, TN, which included side trips to Great Smokie Mountains National Park & Gatlinburg, TN.
June 2018 we visited Historic Williamsburg, VA.
January-March 2018 we went on an Hawaiian cruise and visited Charleston, SC.
Winter 2017 we visited Columbis, SC and Gainesville & Cocoa Beach, FL. We took a Caribbean cruise and did a road trip visiting some national parks.
Dec 2015-Jan 2016 we visited Savannah, GA, Gainesville, Sarasota & Ft Myers, Fl, and did a Caribean cruise.
Mid-April into early June 2015 we went on a road trip around the country. We visited several National Parks (Zion, Yosemite, Denali, Yellowstone, Wind Cave, and Badlands) & National Monuments (Gateway Arch and Mount Rushmore). We also visited some privately owned attractions (Crazy Horse Monument, Thunderhead Falls, and Wall Drug). We spent a few days in Branson, Mo seeing several shows while we were there. Our visit to Denali National Park was included in a sea/land cruise of Alaska. We visited family & friends around the country.
From late March into early April 2014 we went on a road trip around the country that spanned more than 6000 miles. We spent a few days each in Nashville, TN and Memphis, TN. We went on a riverboat cruise from Memphis to New Orleans, LA. We visited with many relatives and friends around the country.
In September 2013 we went on a Hawaiian vacation. We went to the island of Oahu, staying in Waikiki. We had a wonderful time there.
In 2013 we made 2 camping trips:
The first was to the area of the Grand Canyon of Pennsylvania, a rail trail goes through a 16 mile stretch of the Grand Canyon.
The second trip was to the western part of the Massachusetts near Mt Greylock, a rail trail runs along a river for a round trip of 26 miles.
In March-April 2013 we did a one-month/8300 mile auto-trip. We visited several relatives and friends around the country and spent a week in Key West, FL at a time-share of some friends. We drove through/visited in 22 states and one Canadian province.
In February 2012 we finally were able to join the L

ord

's Builders on a mission trip to Alabama to help rebuild a church there. The L

ord

's Builders is the mission for which we collect donations at the line dancing dances we hold.
In October 2011 we went on a two week cruise including cruising through the Panama Canal.
In September, 2011 Dale retired.
In April 2011 Ernie retired.
For more information about our family; visit Our family page.
For more information about trips we have taken; visit our Places we have visited page.

Return to Top.