Home
Dale & Ernie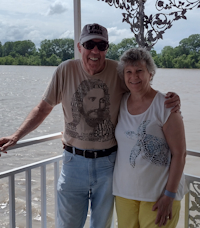 Send an E-Mail to Dale or Ernie or Both Of Us



Press "Ctrl-D" to bookmark this page.




Welcome To Our Wedding Page
We were frequent dance partners and became very good friends over the course of 1½ years before we started to date. We each consider the other as our best friend.
We dated for 2 years and we married on August 4 and August 5, 2000.
Early in the morning of August 4 we went to a secluded spot where it was just God and us and we married in front of Him as our minister. It was an overcast day, but as we walked through the woods birds began to sing welcoming us. When we got to the shore line we walked to a point where the only man-made thing we could see was a television tower. We turned so we could not see the tower. As we started to speak with God making our vows of marriage directly to him a hole formed in the clouds and a ray of sunshine shone down on us. The whole time we were there we did not hear any cars going by on nearby streets though at other times when we have gone to the same spot we always have constantly heard cars passing by.
August 5 we had a church wedding. Determined to have a good time and not be tense on OUR day:
Ernie got to the church about ½ hour early and spent the time greeting and joking with the guests.
During the ceremony we kept saying things to make each other laugh.
When we lit the unity candle we had all our children and grandchildren come up to the alter and made a linked hand chain with them and all the other guests so that we symbolized uniting our extended families.
During the passing of the peace sign, Ernie had to be called back up to the alter after making his way to the back of the church.
Instead of walking into the reception, we danced in to George Strait's "I Only Want to Dance With You". We wanted to start our married life the way we started our relationship, Dancing.
We spent a good 50% of the time at the reception dancing.
On the Fouth and Fifth of every month we say "Happy Anniversry" to each other. In August we celebrate by doing something that includes both the Fourth and Fifth.

Click to see some of our Wedding Pictures.